SYDNEY EASTER
Date: April 16th, 2018

Though it has been supplanted as Australia's highest-grossing yearling sale by Magic Millions' week-long Gold Coast Yearling Sale in Queensland in January (A$168-million), Wm Inglis & Son's (universally known as 'Inglis') Sydney Easter Yearling Sale is still the crown jewel of the vibrant Australasian yearling market. This year's edition, held at the sales company's new A$140-million complex (complete with hotel – you walk out of the lobby into the sales ring) just beside Warwick Farm Racecourse returned an average of A$347,634 for 335 reported sales. Adding in 51 'Book 2' horses sold at the end of Book 1's three-day session (and included in the same catalogue), the Sydney Easter Sale grossed A$122,347,600, for an overall average of A$316,902.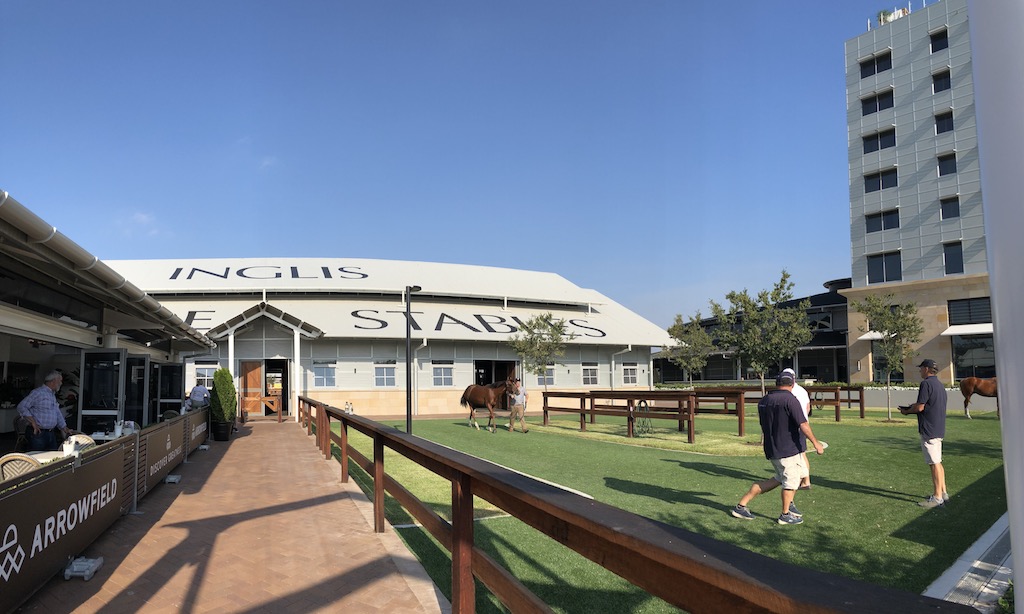 Comparing Book 1 to Book 1 only, with 11% more yearlings catalogued, the Book 1 gross edged up by 6% from last year's sale, though the average was off by 2% from last year's A$354,935, and the median slipped 4%, to A$250,000 from A$260,000. The clearance rate from the catalogue dipped to 70% from last year's 76%, betraying a certain softness in the sale's 'middle market'. In comparing Magic Millions' astonishing 80.5% clearance rate from their week-long catalogue (892 sold/1105 catalogued) with Inglis's 72.2% rate for the whole three-day sale (books 1 & 2), the consensus seemed to be that because this sale is the last major yearling sale of the sales season, whereas Magic Millions is the first sale, buyers of just a yearling or two, and even the big successful syndicates had fired a lot of their bullets, and the main sufferers were consignors of even good-but-not-spectacular individuals in the up to A$200k range. Of course, North American and even European auction companies (which often operate at a 10% higher clearance rate from the catalogues than North American sales) can only drool at the prospect of selling even 72% of the horses catalogued – although, to be fair, Tattersalls' October Book 1, the leading yearling sale in Europe, has sold 70-72% of their yearlings catalogued in each of the last four years.
Two factors, which I alluded to in my first dispatch from New South Wales, underpin the robust health of the Australasian yearling market. The first is the prize money structure in NSW, which was largely authored by Arrowfield Stud's John Messara during his tenure as Chairman of Racing NSW from 2011-2016, and which includes the two-weekend Championships races which now bookend the Easter Sale. When we open the Easter catalogue and see that hip number 1, a Redoute's Choice filly bought by Shadwell Australia for A$550,000, is a half-sister to a Listed winner who won three races and A$446,270, that tells us something about prize money in Australia. The second is the graph we ran last time showing the Australasian yearling market growth of 60% 2013-17 (now around 75%, including this year so far) while the top 20 stud fees had increased hardly at all. There may be a bump up in that category for the 2018 season, as Snitzel (Arrowfield), I Am Invincible (Yarraman Park), and Pierro (Coolmore) will all be seeing substantial increases; nonetheless, even a 10% increase in the aggregate top 20 stud fees should not derail the train.
Four stallions really dominated the Easter Sale (Book 1), and, indeed, the entire Australasian sales season to date. Coolmore's two-time Champion Sire Fastnet Rock (A$554,167), who had the A$2.3-million Easter sale-topper, edged out Yarraman Park's I Am Invincible (A$548,529) as the leading Easter Book 1 sire by average with 10 or more sold, followed by Arrowfield's son-father combination of Snitzel (A$528,902), sailing clear to his second sire championship with record earnings, and three-time Champion Sire Redoute's Choice (A$425,385). Throw in five yearlings by England's Frankel and Japan's Deep Impact and Lord Kanaloa, and the four principal sires plus the five yearlings by the three outsiders accounted for 122 of the 335 reported sales of Book 1 yearlings (36%). Those 122 yearlings sold for a total of A$66,740,000, which was 57% of the Book 1 gross, and averaged a whopping A$542,601. The other 213 Book 1 yearlings sold averaged A$233,415, which is 7% below the sale's median of A$250,000.
We then looked at the Australian yearling sale totals (not including New Zealand) through the Easter Sale. To date a total of 3,556 yearlings have sold for A$443,996,500, for an average of A$124,858. The top four sires plus the three 'outsiders' have had a total of 305 yearlings sell, which have grossed A$135,215,000, and averaged A$443,327. The other 3,251 yearlings sold, by all other sires, have averaged A$94,980. Snitzel (A$476,221), I Am Invincible (A$446,649), Fastnet Rock (A$404,759) and Redoute's Choice (A$375,313), plus the seven total by Deep Impact, Frankel, and Lord Kanaloa comprised 8.5% of the yearlings sold, and have generated almost exactly 30% of the total Australian 2018 yearling sale gross so far.
With such dominance by the top proven sires, this year's first-crop yearling sires (first SH foals 2016) found it difficult to penetrate the top commercial echelons. In fact, ten different first-crop yearling sires averaged over A$100,000 (here including New Zealand sales), led by Darley (Victoria)'s Brazen Beau (by I Am Invincible, 51 sold, average A$158,431) and new kid on the block Newgate Stud's Dissident (Sebring, 97, A$153,428) and Deep Field (Northern Meteor, 118, A$153,186). Then, very much clustered together, are: Darley (NSW)'s Shooting To Win (a full brother to Deep Field, 66, A$115,583); Coolmore's Rubick (Encosta de Lago, 71, A$114,113); Newgate's Wandjina (Snitzel, 47, A$110,223); New Zealand's Waikato Stud's Sacred Falls (O'Reilly, 55, A$109,909); Arrowfield shuttler Olympic Glory (Choisir, 48, A$104,750); New Zealand's Windsor Park's shuttler Charm Spirit (Invincible Spirit, 48, A$103,396) and Kitchwin Hills' ill-fated (died after siring two crops) Time For War (Snitzel, 15, A$103,362).
The three top Australasian commercial sires with their first 2-year-olds (first SH foals 2015) are Freshman sire one-two Zoustar (Northern Meteor, Widden Stud, 74, A$205,899) and Queensland's Eureka Stud's Spirit Of Boom (by Sequalo, a grandson of Thatching, 25, A$153,240), plus Arrowfield's very promising Dundeel (High Chaparral, 43, A$119,756). Top sire with first 3-year-olds is the runaway leading second-crop sire (first SH foals 2014), Coolmore's Pierro (Lonhro, 53, A$241,415), followed by New Zealand's Westbury Stud's shuttler Reliable Man (Dalakhani, 52, A$109,615) and Black Caviar's half-brother All Too Hard (Casino Prince, 61, A$103,541).
LENGTH: 38
Source: Bluebloods Magazine
AUSTRALIAN YEARLING SALES 2017-2018
Sale Name
Month
2016/2017
(A$)
Cumulative Total
2017/2018
(A$)
Cumulative Total
(A$)
Gross vs 2017
Gold Coast Yearling Sale
Jan
$145,926,150
$145,926,150
$168,096,500
$168,096,500
Plus 15%
Inglis Classic
Feb
$36,027,500
$181,953,650
$55,650,000
$223,746,500
Plus 54%
Perth Yearling Sale
Feb
$9,434,500
$191,388,150
$11,660,000
$235,406,500
Plus 23%
Tasmanian Yearling Sale
Feb
$2,310,000
$193,698,150
$2,806,500
$238,213,000
Plus 21%
Melbourne Premier
Mar
$60,623,500
$254,321,650
$56,837,500
$295,050,500
Minus 6%
Adelaide Yearling Sale
Mar
$11,786,000
$266,107,650
$12,622,500
$307,673,000
Plus 7%
Gold Coast March Yearling Sale
Mar
$8,674,000
$274,781,650
$13,946,000
$321,619,000
Plus 60%
Australian Easter Yearling Sale
Apr
$115,400,000.00
$390,181,650
$122,347,500
$443,966,500
Plus 6%
Melbourne Vobis Gold
Apr
$4,518,500
$394,700,150
Cumulative
Plus 14%
Scone Yearling Sale
May
$3,771,750
$398,471,900
Gold Coast June Yearling Sale
Jun
$17,641,350
$416,113,250