VALUE SIRES and MARKET PICKS 2018, PART 2: US SIRES $15,000 & UNDER
Date: December 1st, 2017
There are very few proven sires standing for $15,000 and under, so they're entitled to be heavily patronized. The first two on our list had virtually identical race records: Darby Dan's
Run Away And Hide
and Hill 'n' Dale's
Kantharos
each ran three times at two. Run Away And Hide broke his maiden at Keeneland in April over 4 ½ furlongs; won the GIII Kentucky S., at five furlongs, on May 1, Kentucky Oaks day; and the GII Saratoga Special over 6 ½ furlongs, obviously, at Saratoga. Unfortunately, then injured, retired, and covered mares at Darby Dan as a 3-year-old in 2009. Kantharos, similar story: broke his maiden at five furlongs at Churchill in May, 2010; won the six-furlong GIII Bashford Manor on July 3; romped by seven lengths in the GII Saratoga Special; injured, retired, in his case to Ocala Stud in Florida, where he covered as a 3-year-old, in 2011.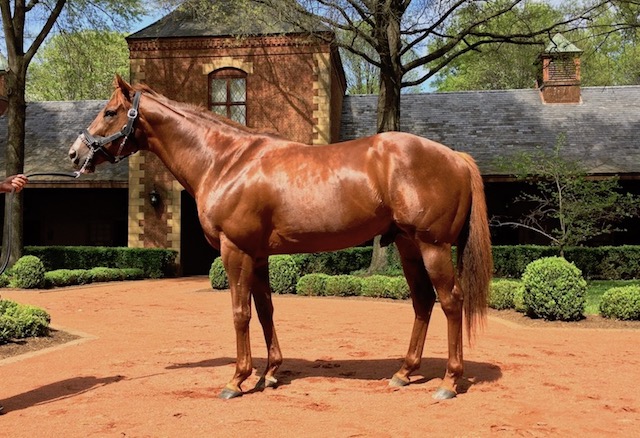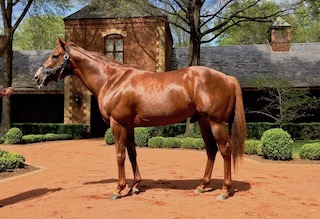 Run Away And Hide is by City Zip and was bred and raced by a group headed by Lexington bloodstock insurance executive Ron Kirk. Kantharos is by Lion Heart, who was head-and-head with Birdstone to be the fifth-best North American F2006 sire, behind Tapit, Medaglia D'Oro, Speightstown, and Candy Ride. Kantharos was a $250,000 OBS 2-year-old for Stonestreet, who kept him as a stallion.
Both have been extremely successful considering they have had the numbers and quality of $5,000 stallions. Run Away And Hide, whose first foals were born in 2010 and raced in 2012, has a 1.69 A Runner Index (Midyear 2017), with a 2.10 ABC 2-year-old index, and has now worked his way up to a $10,000 fee; his 13 two-year-old winners this year include three BTW: GII winner and GI-placed Run Away, in California; the ill-fated Kentucky-based GIII winner, Ten City; and the dual Ohio-bred BTW, Tango Run. For his part, Kantharos sports an even gaudier 2.43 A Runner Index, with a 2.02 two-year-old ABC Index. His first foals were born in 2012 and raced in 2014. He moved to Hill 'n' Dale for the 2017 season, and will be standing his second season in Kentucky for $15,000.
Two other sires with their first foals 2012 (first 5-year-olds 2017) who have been quite successful from limited chances are Spendthrift's
Temple City
and Darley's
Midshipman
. Temple City only won one black-type race, the GIII Cougar II H., at a mile and a half on the synthetic, at Del Mar, as a 5-year-old; hardly the obvious formula for sire success. But he is by Dynaformer, which explains going a mile and a half as a 5-year-old, but not only that, his dam is a Danzig half-sister to Malibu Moon. How could we miss that? He's sired seven A Runners through Midyear 2017, but four of them are GI/GII winners including Miss Temple City, who sold for $2.5-million at Fasig-Tipton November, and Bolo, winner of the GII Arcadia S. two years in a row on grass, and placed in the GI Santa Anita Derby on dirt. Temple City has also had serious support by Spendthrift the last two years. Midshipman has a little bit different profile. Winner of the 2008 GI Breeders' Cup Juvenile over Square Eddie, he has sired nine individual A Runners but no G1-G2 winners, even Lady Shipman, who was beaten a neck by Mongolian Saturday in the 2015 GI Breeders' Cup Turf Sprint. But Midshipman has an ultra-consistent profile, in that his APEX A Runner, B Runner, and C Runner indexes are all 1.74, plus they get better with age. He's a great idea to kick a young mare off the right way, for only $8,500 – a righteous fee.
Sires with their first 2-year-olds in the current year are always a chancy bet, but at the same time that often means they're still available at reasonable prices, because the market knows, unless it's a Uncle Mo or something, you really have to wait and see what they do as 3-year-olds before you have a real idea which way it's going to go. It's worked out well that way this year for last year's Leading Freshman Sire, Dialed In; he went from $7,500 to $15,000 for 2017, and now he's going up again, to $25,000, for 2018. Connections of this year's Leading Freshman Sire, WinStar's
Overanalyze
, are hoping for a similar scenario. A son of Union Rags' sire, Dixie Union, Overanalyze's big claim to fame was winning the GI Arkansas Derby as a 3-year-old in 2013, but he's very much been doing the job as a sire this year, with 61 starters, 25 two-year-old winners, including four BTW, though none Graded as yet. Still, he's clearly moving up pretty ordinary mares, and WinStar has only bumped him from $10,000 to $15,000, so it's entirely possible he'll show the same sort of improvement from two to three that Dialed In is showing.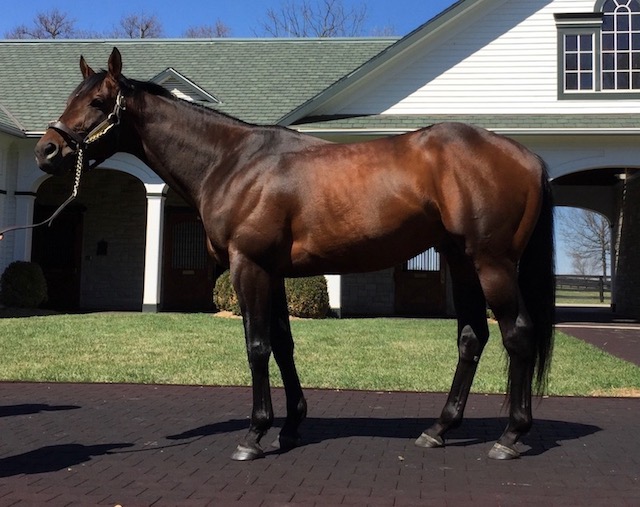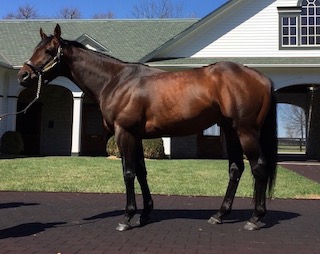 Ashford's
Shanghai Bobby
was the unbeaten 2-year-old champion of 2012 by Harlan's Holiday (sire of Into Mischief) and has blown both hot and cold in the marketplace thus far. He is the number three Freshman Sire at this writing, with a narrow margin over Animal Kingdom, and behind Overanalyze and Violence. Critics will point out Shanghai Bobby has had only 12 winners from 48 starters; admirers will point out he leads all North American freshman sires with eight Black-Type Horses. The jury is out, fair enough, but Ashford has dropped him from $25,000 this year to $15,000, which is sounding mighty tempting. And here are a couple maybe not as obvious: Lane's End's
Morning Line
, who ranks #20 on the Freshman Sire list, with nine winners, and will stand for just $7,500 in 2018; and Spendthrift's
Liaison
, who is even further down the money list. Morning Line had the BTW winning filly Surrender Now, who won the Landaluce S. at Santa Anita in July; the New York BTH Morning Breez, also in July; and, recently at Churchill Downs, the colt Seven Trumpets has won two in a row. All three of these ran quite high speed figures, which is encouraging. Morning Line himself is a son of Tiznow who won the GI Carter H. at seven furlongs on the dirt, and also won the GII Pennsylvania Derby at nine furlongs on the dirt, and the GII Mervyn Leroy in California, at 8 ½ furlongs on the synthetic. Liaison, a son of Uncle Mo's sire, Indian Charlie, won the GI Cashcall Futurity (Into Mischief, Violence) at two for Baffert, then made eight starts, all in Graded stakes (seven GI or GII), at three, winning none, but showing up every time. He came back to win the GII Mervyn Leroy at four. He now has nine winners in first crop, including BTW Bronx Beauty and Night Strike, and looks good value to us, still at just $5,000.
The great thing about speculating on unproven sires is that Tapit started at $15,000 and War Front started at $12,500. Of course it can go the other way too, but that's a given. Here it's not so much a matter of personal preference as it is of reading the market. Just like the collective wisdom of all the gamblers at the racetrack determines the odds, so the collective wisdom of the marketplace identifies the unproven sires whose individuals are finding favour with the judges. Simple as that. Of course it can create its own momentum or get caught up in a stampede, but on the whole the collective wisdom of 'the market' is a reliable guide at least to what people like.
Two sires with their first yearlings the market really liked ranked fourth and fifth by average among North American F2016 (first foals 2016) sires, behind Will Take Charge, Cairo Prince, and Verrazano (all standing for $17,500+): Three Chimneys'
Strong Mandate
and WinStar's
Fed Biz
. Strong Mandate, another by Tiznow and out of the top-class racemare Clear Mandate, won the GI Hopeful and ran third in the GI Breeders' Cup Juvenile for uber-trainer Wayne Lukas; as such he was much more precocious that the average Tiznow, and the market loved them: off a $10,000 stud fee, 45 yearlings sold (of 53 offered) for an average of $87,400, so that's a huge multiple of stud fee. Similarly, the market also really liked Fed Biz, a son of Giant's Causeway who won three Grade II races from seven to 8 ½ furlongs in California on both dirt (Santa Anita) and synthetic (Del Mar). He had 57 yearlings sell (of 67 offered), for an $80,705 average, but equally impressive was his median – for 57 sold, which is a lot – it was $75,000, six times his opening stud fee of $12,500. Both horses will stand for $10,000 next year.
In our
last installment
we talked about the depth of the group of North American sires with first foals 2017, whose first weanlings have just come to market, with no fewer than 13 sires whose first foals averaged $65,000+. Among those was Hill 'n' Dale's
Bayern
(ranked fifth on average, $103,333), who should have been covered in this very issue as he stands for $15,000 but somehow
snuck in unnoticed with the $17,500+ stallions
. Besides him, five more of the 13 which averaged $65,000+ merit a mention. In order of their averages, these are: Airdrie's
Summer Front
(War Front), who won one Grade II race and hit the board in no fewer than five Grade I's. Nine weanlings from his first crop averaged $100,666 and people really liked them, though he did have 18 through the ring. He ranked sixth by average among F2017 sires, and stood, then as now, for $10,000. Claiborne's
Lea
, it was like a love-in; everybody swooned, as 13 sold (of 16 offered), and ranked seventh among first-crop weanling sires with an average of $93,538. It's not hard to understand why he's so popular: Lea was an unusual horse in that he really was equally at home on grass (never off the board in eight turf starts) and dirt (GI Donn H.); he's by Giant's Causeway's son First Samurai out of a Galileo mare, so automatically he has a reason for Euros to pay attention – that, and his excellent grass form. Most importantly the individuals looked the part. Lea stood his first season for $12,500 but is down to $7,500 for 2018. That makes him a finalist for Bargain Buy of the Year.
Darby Dan's
Tapiture
is a Winchell homebred by Tapit who won five Grade II/Grade III races and ran second to Goldencents in the 2014 GI Breeders' Cup Dirt Mile. He's always stood for $7,500, so his first weanlings averaging $87,207 ranked him ninth among first-crop sires but was more than 11 times his stud fee. Tapit did that himself; his first weanlings sold extremely well with little fanfare, and that was the first tip by the market that he was throwing very good stock. You could say the same about Tapiture. WinStar's
Daredevil
, by More Than Ready, ran a gaudy Beyer 107 when winning the GI Champagne S. in the slop on just his second career start. He stood his first season for $12,500 and is another down to $7,500, but 14 of his first-crop weanlings averaged $78,571. Another who sold well was Gainesway's
Karakontie
, the top French 2-year-old of 2013 and winner of the G1 French 2000 Guineas and Breeders' Cup Mile as a 3-year-old in 2014. Ten foals from his first crop averaged $70,850; he originally stood for $15,000 but is down to $10,000 for 2018. Karakontie and Lea are two stallions who figure to benefit when breeders really cotton on that there is a surge of turf racing in America, and sires like these are going to emerge as the next Kitten's Joy and English Channel.
Finally, among sires with their first weanlings this year, here's one the market hasn't had much of a chance to respond to yet: Hill 'n' Dale's
Secret Circle
, a crack sprinter who was first or second in 14 of his 16 career starts and was never out of the first four. He won the GI Breeders' Cup Sprint as a 4-year-old and the G1 Golden Shaheen in Dubai in his only start at six. He only stands for $5,000, and he's by a failed (in Kentucky, anyway) son of Unbridled in Eddington. He's decidedly un-commercial, but this was one fast dude, and a respected breeder of our acquaintance told us in November he had bred to the horse on a whim and the result was very nearly the best foal on his farm. You heard it here first.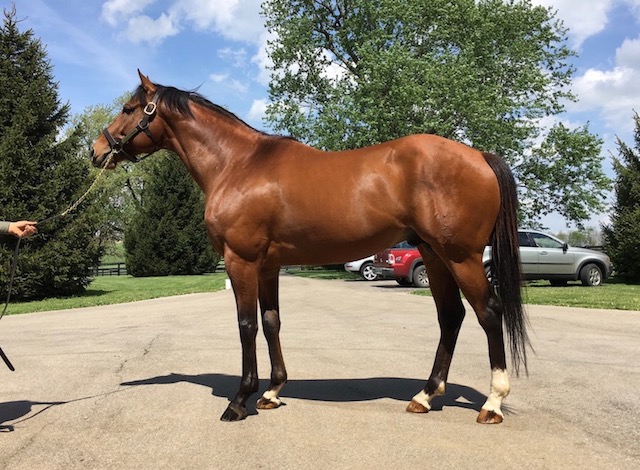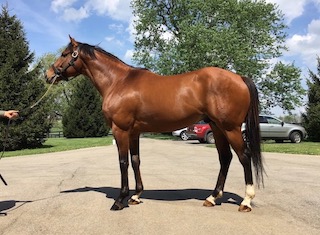 Among sires which stood their first seasons in 2017, we'd just like to point out three sires standing for under $15,000 which the market may not have totally discovered yet. Two of them are at WinStar:
Tourist
, another unusual Tiznow in that, after making his first four starts on the dirt, Mott switched him to the turf and he ended up winning the GI Fourstardave and the 2016 GI Breeders' Cup Mile; and
Speightster
, by Speightstown obviously, and another WinStar colt trained by Mott. I happened to see him win an allowance race at Belmont the day before American Pharoah won the Triple Crown and remember being quite impressed with Speightster; he went on to win the GIII Dwyer on July 4 over
Texas Red
. Tourist stands for $12,500 and Speightster for $10,000, and both have plenty to recommend them. Pope McLean's Crestwood Farm stands the aforementioned Texas Red, and I think he must be among the most overlooked stallions in Kentucky. He won, impressively, the GI Breeders' Cup Juvenile in which American Pharoah did not run, while as a 3-year-old, after his prep race in the GIII Dwyer in which he was second to Speightster, he came back to beat Frosted in the GII Jim Dandy. Texas Red was, in my opinion, a seriously good racehorse; he's by Afleet Alex and stands for just $7,500. I would say he's an awfully high-class horse to be able to breed to for that kind of money.
And finally, two somewhat later arrivals to commence stud duty in 2018: WinStar's
Battle of Midway
, the son of Smart Strike who was an impressive winner of the GI Breeders' Cup Dirt Mile (Beyer 108); he'll stand for $20,000, which is of course more than the $15,000 limit for this issue, so let's just pretend we traded him for Bayern for a few minutes. And Darby Dan has landed
Klimt
, last year's GI Del Mar Futurity winner by the newest sire sensation by whom you'd want a son, Quality Road. The judges went and saw them both and gave them both the thumbs-up, and by the way told us Klimt was immediately sold out at $10,000.
VALUE SIRES & MARKET DARLINGS - US$15 & UNDER
(by age of first foals, then by 2018 stud fee)
| SIRE | YEAR | HIS SIRE | FARM | FEE 18 | 1st Foals |
| --- | --- | --- | --- | --- | --- |
| RUN AWAY AND HIDE | 2006 | CITY ZIP | DARBY DAN | 10000 | 2010 |
| KANTHAROS | 2008 | LION HEART | HILL 'N' DALE | 15000 | 2012 |
| TEMPLE CITY | 2005 | DYNAFORMER | SPENDTHRIFT | 15000 | 2012 |
| MIDSHIPMAN | 2006 | UNBRIDLED'S SONG | DARLEY | 8500 | 2012 |
| SHANGHAI BOBBY | 2010 | HARLAN'S HOLIDAY | ASHFORD | 15000 | 2015 |
| OVERANALYZE | 2010 | DIXIE UNION | WINSTAR | 15000 | 2015 |
| MORNING LINE | 2007 | TIZNOW | LANES END | 7500 | 2015 |
| LIAISON | 2009 | INDIAN CHARLIE | SPENDTHRIFT | 5000 | 2015 |
| STRONG MANDATE | 2011 | TIZNOW | THREE CHIMNEYS | 10000 | 2016 |
| FED BIZ | 2009 | GIANT'S CAUSEWAY | WINSTAR | 10000 | 2016 |
| SUMMER FRONT | 2009 | WAR FRONT | AIRDRIE | 10000 | 2017 |
| LEA | 2009 | FIRST SAMURAI | CLAIBORNE | 7500 | 2017 |
| TAPITURE | 2011 | TAPIT | DARBY DAN | 7500 | 2017 |
| DAREDEVIL | 2012 | MORE THAN READY | WINSTAR | 7500 | 2017 |
| KARAKONTIE | 2011 | BERNSTEIN | GAINESWAY | 10000 | 2017 |
| SECRET CIRCLE | 2009 | EDDINGTON | HILL 'N' DALE | 5000 | 2017 |
| TOURIST | 2011 | TIZNOW | WINSTAR | 12500 | 2018 |
| SPEIGHTSTER | 2012 | SPEIGHTSTOWN | WINSTAR | 10000 | 2018 |
| TEXAS RED | 2012 | AFLEET ALEX | CRESTWOOD | 7500 | 2018 |
| BATTLE OF MIDWAY | 2014 | SMART STRIKE | WINSTAR | 20000 | 2019 |
| KLIMT | 2014 | QUALITY ROAD | DARBY DAN | 10000 | 2019 |