VALUE SIRES and MARKET PICKS 2018, PART 1: US SIRES At $17,500+
Date: November 27th, 2017
It nearly goes without saying that 'value' is a relative term – the most expensive horse can be cheap if it's good value, and likewise cheap horses can be poor value. So we begin this series with 26 Kentucky sires which I reckon do provide 'value', seven of which stand for $50,000 or more, and a further 19 which stand for $17,500 - $40,000. The next part of this series will focus on US sires which will be standing for $15,000 or less, then we will move on to Europe. And I am far from the only one who assesses value: all breeders make that decision nearly all of the time when selecting stallions, and so does 'the market'; for this series I am adding in sires which the market has determined are value. The market is a valuable ally to have – probably more so than one opinionated individual such as myself.
Two disclaimers before we start: first, conceding that infallibility is not one of my virtues, there may be stallions I have omitted from my list with which you, as readers, disagree; particularly studmasters and farm owners may feel a horse they stand has been unfairly overlooked. As we always did when I wrote for TDN, we encourage 'Nominations From The Floor', and we will cover those in future sections. Second, I'd like to comment on the concept of 'consistency'. The great American writer Ralph Waldo Emerson wrote, in his 1841 essay "Self-Reliance", that "A foolish consistency is the hobgoblin of little minds". I wouldn't go so far as that, but I would point out that, in assessing stallion performance, consistency is not so great a virtue as "class". Class Trumps All; more to the point in our world, the ability to sire genuine class has a higher correlation to sires' stud fees than any amount of consistency. Obviously, the more consistently they sire class, the better; but if it comes down to one or the other, Class Trumps All.
The most expensive of our American 'Value Sires and Market Picks' for 2018 is
Pioneerof The Nile
, who stands at WinStar for $110,000, same as last year. This I think is 'value' when compared to other top sires which stand for $150,000 or more. Sure enough, as befits the Fappiano sire line, which he represents (four of the seven in the $50,000+ category are Fappiano-line sires), Pioneerof The Nile is not the most consistent sire in the stud book, in that his 19 Black-Type Winners (BTW) represent fewer than 5% of his foals, and he has only sired three Grade I winners thus far in his first five crops. But two of them are Champion Two-Year-Olds: American Pharoah, not insignificantly the first American Triple Crown winner in 37 years, and Classic Empire; the third is the versatile Midnight Storm, who enters stud at Taylor Made next year.
The Triple Crown winner himself, Coolmore Ashford's
American Pharoah
, is next on the list; his fee is listed as 'private' but has been widely reported as $85,000. How can the first Triple Crown winner in 37 years not be standing for a six-figure fee? The answer is, as the Coolmore team will concede themselves, they misjudged the market when they tried to stand him for $200,000 in 2016, his first year at stud. They quickly backtracked, but the commercial damage was done. The upshot is that a horse who should have probably gone to stud for $150,000 is available for, really, a 40% discount. His 10 weanlings sold in November (from 28 catalogued, of which 15, or over half, were withdrawn) averaged $445,500. Like all of them, he may or may not make a sire, but we reckon the price of finding out is a lot less than it would have been had Coolmore not so uncharacteristically misjudged his opening stud fee.
Next on the list are the two top-class Fappiano-line sire prospects retiring for 2018, Juddmonte's
Arrogate
(by Unbridled's Song) for $75,000, and Three Chimneys' Gun Runner (by Candy Ride), for $70,000. There's no doubt if Arrogate, who retires the richest horse trained in North America, with earnings of $17,302,600, had been retired after the Dubai World Cup, he would have stood for a six-figure fee; between last August and this March he won the Travers, the Breeders' Cup Classic, the Pegasus, and the Dubai World Cup, in which he came from last to defeat none other than Gun Runner. But whereas Gun Runner came back from Dubai and won four consecutive Grade I's, including this year's Breeders' Cup Classic, Arrogate came back and lost all three of his subsequent tries. But for those six months at the end of last year and the beginning of 2017, he was flat untouchable, running Beyers of 122, 120, and 119, and a Timeform 134 in Dubai.
For his part, Gun Runner is a horse with virtually no detractors. He progressed from running third to Nyquist and Exaggerator in the 2016 GI Kentucky Derby through the year, finishing off his 3-year-old campaign with a second to Tamarkuz in the GI Breeders' Cup Dirt Mile, then defeating older horses in the GI Clark H. at Churchill Downs, running a then-career high Beyer 110. After Dubai he just got better and better, winning all four starts, all Grade I's, including the Woodward (Beyer 115) and his commanding performance in the Breeders' Cup Classic (Beyer 117), locking up Horse of the Year honors. He was brilliantly campaigned by his team, captained by trainer Steve Asmussen. He'll retire after the Pegasus at Gulfstream Park in January, and his $70,000 entering stud fee looks an eminently fair price.
Next are two Lane's End stallions, the top F2012 sire (first 5-year-olds 2017)
Quality Road
, whose stud fee doubles to $70,000 for 2018, and the top F2014 sire
Union Rags
, who edges up from $50,000 to $60,000. The F2012 group of North American sires is a deep group, with probably 10 sires you can make a good case for, but Quality Road dominates them all, leading the group by cumulative progeny earnings as well as in all black-type categories except actual number of BTW, which is led by Ashford's Munnings (more about him later). Quality Road now has five Grade I winners and would rightfully be about the most sought-after stallion in Kentucky this year. For his part, Union Rags has now sired four Grade I winners in his first two crops, whereas no other North American F2014 sire has more than one (though two of those, Bodemeister and Maclean's Music, sired Classic winners). Up until a month or so ago Union Rags was perceived as primarily a 'filly sire', as all three of his first-crop Grade I winners were fillies, but when Free Drop Billy won the GI Breeders' Futurity at Keeneland that criticism rather fell away. My colleague, Dr. Emily Plant, has done the research, and found in the last twenty years only two other sires had four Group 1 winners by the end of the year their first 3-year-olds had raced: Galileo and Giant's Causeway. That's pretty exalted company Union Rags is keeping.
Finally, in our $50,000 and up category, there is Darley's
Frosted
, arguably the best son of Tapit yet to go to stud. Frosted won the GI Wood Memorial and ran a respectful second to American Pharoah when the latter clinched the Triple Crown in the 2015 GI Belmont S., and came back at four to run a hole in the wind in the 2016 GI Met Mile (Beyer 123), then followed up in the GI Whitney at Saratoga. His overall record might have been better had he not spent so much time chasing the likes of American Pharoah, California Chrome, and Arrogate, but his Met Mile Beyer 123 showed what he was capable of when things dropped his way and he didn't have other superstars to contend with. He had 13 mares sell in foal at the recent November sales with a covering sire average of $235,000, ranking him second in that category to barn-mate Nyquist. Beginning with the GII Remsen in his final start at two, Frosted ran in 16 consecutive Grade I or Grade II races in his last 16 starts, with a record of 5-4-2 in the first three. He really was always 'right there' in the biggest races.
VALUE SIRES & MARKET DARLINGS - US$ 17.5+
$50K+
(by stud fee)
| SIRE | YEAR | HIS SIRE | FARM | FEE 18 | 1st Foals |
| --- | --- | --- | --- | --- | --- |
| PIONEEROF THE NILE | 2006 | EMPIRE MAKER | WINSTAR | 110000 | 2011 |
| AMERICAN PHAROAH | 2012 | PIONEEROF THE NILE | ASHFORD | 85000 | 2017 |
| ARROGATE | 2013 | UNBRIDLED'S SONG | JUDDMONTE | 75000 | 2019 |
| GUN RUNNER | 2013 | CANDY RIDE | 3 CHIMNEYS | 70000 | 2019 |
| QUALITY ROAD | 2006 | ELUSIVE QUALITY | LANE'S END | 70000 | 2012 |
| UNION RAGS | 2009 | DIXIE UNION | LANE'S END | 60000 | 2014 |
| FROSTED | 2012 | TAPIT | DARLEY | 50000 | 2018 |
$17.5K+
(by age of oldest foals, then by stud fee)
| SIRE | YEAR | HIS SIRE | FARM | FEE 18 | 1st Foals |
| --- | --- | --- | --- | --- | --- |
| STREET BOSS | 2004 | STREET CRY | DARLEY | 20000 | 2010 |
| SUPER SAVER | 2007 | MARIA'S MON | WINSTAR | 35000 | 2012 |
| MUNNINGS | 2006 | SPEIGHTSTOWN | ASHFORD | 25000 | 2012 |
| DIALED IN | 2008 | MINESHAFT | DARBY DAN | 25000 | 2014 |
| MACLEAN'S MUSIC | 2008 | DISTORTED HUMOR | HILL 'N' DALE | 25000 | 2014 |
| ANIMAL KINGDOM | 2008 | LEROIDESANIMAUX | DARLEY | 30000 | 2015 |
| VIOLENCE | 2010 | MEDAGLIA D'ORO | HILL 'N' DALE | 25000 | 2015 |
| POINT OF ENTRY | 2008 | DYNAFORMER | ADENA SPRINGS | 20000 | 2015 |
| WILL TAKE CHARGE | 2010 | UNBRIDLED'S SONG | 3 CHIMNEYS | 30000 | 2016 |
| VERRAZANO | 2010 | MORE THAN READY | ASHFORD | 17500 | 2016 |
| HONOR CODE | 2011 | A.P. INDY | LANE'S END | 40000 | 2017 |
| CARPE DIEM | 2012 | GIANT'S CAUSEWAY | WINSTAR | 25000 | 2017 |
| PALACE MALICE | 2010 | CURLIN | 3 CHIMNEYS | 20000 | 2017 |
| BAYERN | 2011 | OFFLEE WILD | HILL 'N' DALE | 15000 | 2017 |
| NYQUIST | 2013 | UNCLE MO | DARLEY | 40000 | 2018 |
| RUNHAPPY | 2012 | SUPER SAVER | CLAIBORNE | 25000 | 2018 |
| AIR FORCE BLUE | 2013 | WAR FRONT | ASHFORD | 20000 | 2018 |
| CLASSIC EMPIRE | 2014 | PIONEEROF THE NILE | ASHFORD | 35000 | 2019 |
| MASTERY | 2014 | CANDY RIDE | CLAIBORNE | 25000 | 2019 |
Selected Sires Standing for $17,500 - $40,000
Darley's
Street Boss
isn't everybody's cup of tea, in fact he hasn't been my cup of tea up until now, but he's an excellent example of my contention that class trumps consistency. Himself a dual Grade I winner (on the synthetic) sprinting in California, in six Northern Hemisphere crops of racing age Street Boss has sired four Grade I winners: the colts Capo Bastone and Danza, and the fillies Cathryn Sophia and Decked Out – as well as the brilliant but ill-fated Southern Hemisphere-bred Rapper Dragon, who was on his way to stardom in Hong Kong when he broke down in a Grade I race last May. But Street Boss has only an above-average 1.41 APEX A Runner Index (Midyear 2017) and his ABC Age indexes demonstrate definitely his runners are best as 2-year-olds (2.01) and 3-year-olds (1.65). So his overall numbers are not that consistent. But he really can throw class. $20,000 at Darley.
Then there's WinStar's
Super Saver
, one of the deep North American sire class of (first foals) 2012. He had won the 2010 GI Kentucky Derby (over, gulp, Ice Box and Paddy O'Prado), but there were four sires who had debuted at higher stud fees than him (Quality Road, Blame, Lookin At Lucky, and Eskendereya) when their first foals came to the yearling sales in 2013. He quickly made that top four a top five with one blockbuster yearling after another, carried on at the 2-year-old sales, and finished up 2014 with Grade I 2-year-old winner Competitive Edge and missed by $25,000 to Quality Road for Leading Freshman Sire. In 2015, first 3-year-olds, two more Grade I winners with Runhappy and Embellish The Lace, and finished second to Munnings on the second-crop sire list. Then, 2016 and the first part of 2017 – couldn't find him. But there are signs of life: 15 two-year-old winners this year and 55 yearlings averaged $107,463, with a high of $625,000. He's now back down to $35,000 after two years at $50,000; his downward diagonal the last two years is all too typical for third- and fourth-crop sires, but he could be poised for a comeback.
From the same sire group, the North American class of 2012: Ashford's
Munnings
. He was a $1.7-million 2-year-old in 2008, and placed in two Grade I's that year, the Hopeful and the Champagne. He came back at three to win the GII Woody Stephens and GII Tom Fool at seven furlongs, then ran three straight races on sloppy tracks in Grade I's: third to Rachel Alexandra in the Haskell, then, back sprinting, again third in the GI King's Bishop and GI Vosburgh. At stud he has never been worse than fourth in this deep sire group, and leads even Quality Road in cumulative BTW, 25 to 21. He had 100 foals in his first crop, including GI winner I'm A Chatterbox, but his subsequent three crops (including this year's 2-year-olds) averaged a very un-Ashford-like 58 foals. Even so he has remained right up among the crop leaders, and got his second Grade I winner this year, El Deal. But he also doesn't noticeably stamp his foals, or throw a particularly commercial type: his yearling crop is over 120 foals but 52 yearlings averaged just $54,759 this year. He has 132 foals of 2017, and covered 178 mares this year, according to Jockey Club statistics. In my book he's a thoroughly proven sire and a big bargain at $25,000, but that's nothing compared to what my colleague, Dr. Plant, thinks of Munnings, or, as she invariably refers to him: Ah, Munnings. We think this horse is a great bet to really explode with these bigger crops.
With first foals 2014, three-year-olds this year, we're pretty keen on two young up-and-coming sires standing for $25,000 next year: Darby Dan's
Dialed In
and Hill 'n' Dale's
Maclean's Music
. Dialed in, the 2011 GI Florida Derby winner, was the shock 2016 Leading Freshman Sire over Union Rags, primarily due to the colt Gunnevera's win in the rich GIII Delta Jackpot; that colt has gone on this year to win the GII Fountain of Youth and place in the GI Florida Derby and GI Travers, and this year Dialed In is the sire of another good 2-year-old in GIII Iroquois S. winner, The Tabulator. What's encouraging about Dialed In is he does seem to get horses with some class, regardless of whether the mare was much or not. For his part, Maclean's Music ran the fastest Beyer figure ever recorded by a first-time starter (114), but injury intervened and he was never able to run again. But his first crop includes the GI Preakness winner Cloud Computing and a total of 14 Black-Type Horses (BTH), so there's not much question he's getting the job done without having had the biggest crops or the best mares. He deserves this upgrade.
When thinking about breeding to sires with runners, there's nothing more, shall we say, adventurous, than breeding to the current year's Freshman sires, who will have their first 3-year-olds next year. Most of this year's freshmen will still be standing for $15,000 or under in 2018, including the Leading Freshman Sire, WinStar's Overanalyze, so we'll be talking about him and others in our next instalment, North American Sires at $15,000 and under. But there are three we'd like to mention. First is the number two freshman sire, Hill 'n' Dale's
Violence
, a very good-looking ($600,000 yearling) son of Medaglia D'Oro who was unbeaten in three starts at two, including the GI Cashcall Futurity (previously won by Into Mischief, for example) and was a close second to Orb in the 2013 GII Fountain Of Youth before injury intervened and forced his retirement. His first yearlings last year, and first two-year-olds this year, made him a 'market pick' to start with, and he is very much following through, with 23 winners so far, including three BTW and a whole host of promising types. He was announced at $25,000 but those quickly went, and if you can still get to him at all the price now is more like $35,000.
The number three Freshman Sire, probably surprisingly as they seem much more three-year-old types, is Darley's
Animal Kingdom
, winner of the GI Kentucky Derby on dirt, the GI Dubai World Cup on synthetic, and who gave Wise Dan a scare when second in the 2012 GI Breeders' Cup Mile on turf at Santa Anita. Animal Kingdom has sired nine winners, three of them BTW, including Untamed Domain, who won the GII Summer S. at Woodbine and finished an arguably unlucky second to Mendelssohn in the GI Breeders' Cup Juvenile Turf. What impresses us about Animal Kingdom: they look like they have class, the good ones anyway. He remains at $30,000. Adena Springs'
Point Of Entry
is a son of Dynaformer who, along with Spendthrift's Temple City ($15,000), looks like giving the Roberto sire line a couple of more shots. Point of Entry won five Grade I's at four and five, including defeating none other than Animal Kingdom in the 2013 GI Gulfstream Park Turf H., the latter's final prep race before going to Dubai. Point of Entry ranks #10 on the Freshman Sire List and also has ten winners, one of them a Canadian BTW, but also had the most impressive turf maiden winner of the year, Analyze It, who ran an E-fig 108 (Equibase fig, same scale as Timeform) on October 28 at Belmont Park, and was due to run back yesterday in a Black-Type contest at Del Mar. Point of Entry remains at $20,000 for 2018, and has plenty of admirers who will be backing him.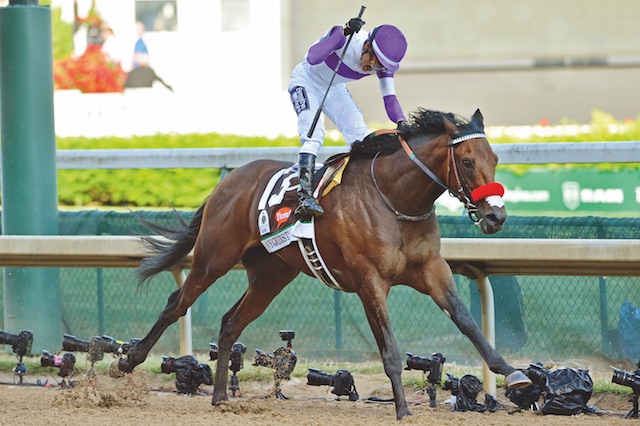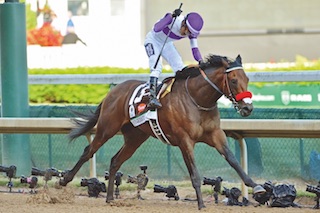 Market Picks: Sires Without Runners
Before Three Chimneys had Gun Runner, they already have in my opinion the best sire prospect from the F2016 (first foals 2016) North American sire crop in
Will Take Charge
, who remains at $30,000 for 2018. This horse has a great pedigree, and improved in the second half of his 3-year-old year, in 2013, to win the GI Travers, then-GII Pennsylvania Derby, ran a mighty race to be beaten a nose by Mucho Macho Man in the GI Breeders' Cup Classic (Beyer 112), and finished up beating Game On Dude in the GI Clark H., locking up year-end honors. He was trained by the legendary Wayne Lukas, and he didn't stand around in the barn: he ran 11 times as a 3-year-old, having won the GII Rebel at Oaklawn in the spring before running unplaced in all three Triple Crown races, and he ran 21 times in all, including additional Beyers of 111-114 as a 4-year-old when second in Grade I's to Lea and Game On Dude. There is only one negative about Will Take Charge: he is by Unbridled's Song, a great sire and broodmare sire but thus far a big disappointment as a sire of sires. Thus far. Dr. Plant is also a big admirer of this horse, and has even done a study which suggests he really is a lot different than Unbridled's Song's previous sons – in running 21 times, for one thing. He led the sire group with 63 yearlings which averaged $169,190, and we give him a really big shot of making a sire. Unbridled's Song is of course also the sire of Arrogate, who also has a big shot to make a sire.
Airdrie's Cairo Prince is a textbook 'market darling', running a close second to Will Take Charge with 75 yearlings averaging $150,787, but those were sired off a $10,000 fee and he is up to $25,000 for 2018, so we can't really call him a 'value sire'. But we also thought the North American F2016 #3, Ashford's
Verrazano
, remained at a square price, at $17,500 next year, having had 73 yearlings average $99,013. He's a great shot to carry on the More Than Ready line, having won both the GI Wood Memorial and the GI Haskell (by nearly 10 lengths, Beyer 116) as a 3-year-old.
At the recently completed November sales, no fewer than 13 F2017 sires (first foals 2017) averaged $65,000 or more with their first weanlings. Besides the usual weanling frenzy, it still seemed like there were a lot of good individuals by a lot of promising young sires. American Pharoah, of course, was on his own in the number one spot, and, of those that will be standing for $17,500+ next year, we thought four merited a mention. Number two by average was Lane's End's
Honor Code
, A.P. Indy's last top son to go to stud; he had nine weanlings average $192,778, and the judges really liked them. On the racetrack, Honor Code was beaten a head in the GI Champagne and won the GII Remsen as a 2-year-old; missed most of his 3-year-old year; but then came back at four to win the GI Met Mile and Whitney, running Beyers of 112-113 in those two races. He remains at $40,000 for 2018.
WinStar and Stonestreet's
Carpe Diem
was a $1.6-million yearling who the judges say is a knockout looker, and his first foals sold like they were, too, ranking him number four among first-crop weanling sires, with 17 selling for an average of $120,823. Winner of two Grade I's at Keeneland, the Breeders' Futurity at two and the Blue Grass at three, from just six starts, Carpe Diem stands for $25,000. Hill 'n' Dale's
Bayern
is best known for winning the 2014 GI Breeders' Cup Classic after knocking half the field sideways at the start, but that was just one of four Grade i/Grade II races he won that year, at distances from seven to ten furlongs, with Beyers of 108 – 111 – 110 – 113. They don't mention he's by Offlee Wild, but I don't think that's so bad. Twelve weanlings by Bayern, who stands for $15,000, averaged $103,333, ranking him fifth. And Three Chimneys has a second string to their bow in
Palace Malice
, from Curlin's first crop. He set a scorching pace, with blinkers on for the one and only time, in the 2013 GI Kentucky Derby, then Pletcher brought him back to win the GI Belmont. He came back at four to win three in a row with Beyers of 112-114-112, the last of those in the 2014 GI Met Mile. He stands for $20,000, and ranked 13th among first-crop weanling sires with 12 selling for an average of $65,083. But it's worth remembering the entire Smart Strike line is pretty famous for being plain but very good.
Darley's
Nyquist
was from the first crop by Uncle Mo, and helped the sire get off to his sensational start by going unbeaten in five starts at two in 2015, including the GI Breeders' Cup Juvenile and scooping the Eclipse Award, then went on to win the 2016 GI Kentucky Derby at three. Nine mares in foal to him averaged $308,889 at the November sales, making him the leading first-year covering sire. He stands for $40,000. Barn-mate Frosted, as noted above, came second, followed by Claiborne's
Runhappy
, the 2015 Champion Sprinter, from Super Saver's first crop. He won his last six in a row at three, including the GI Breeders' Cup Sprint. He was an interesting play for Claiborne, but he's a really good-looking horse and the market really likes him, with 15 mares selling in foal to him, for an average of $160,667. He stands for $25,000. On the other hand, Ashford's
Air Force Blue
hasn't been a market darling; he stood for $25,000, nine mares in foal to him averaged $50,111, and his fee has dropped to $20,000. This horse has been severely punished by the market for not training on as a 3-year-old, but it's worth remembering he really was the highest-rated 2-year-old ever trained by a certain Aidan O'Brien, and there's a list as long as your arm of top 2-year-olds who didn't train on who went on to be big-time sires, from Raise a Native to Dark Angel.
Finally, a couple of 2017 three-year-olds retiring to stud for 2018 who each have claims to being the best 3-year-old seen out in America this year.
Classic Empire
, who retires to Ashford for $35,000, won his four completed starts as a 2-year-old in 2016, including the GI Breeders' Cup Juvenile (he wheeled and dropped his rider at the start of the GI Hopeful) and had a very interrupted campaign this year, and in fact never ran again after dropping a head decision to Cloud Computing in the GI Preakness. He is Pioneerof The Nile's second Champion 2-Year-Old, after American Pharoah. The other candidate is
Mastery
, a $425,000 yearling by Candy Ride (also sire of Gun Runner) trained by Bob Baffert for Everett Dobson's Cheyenne Stables. He went 3-for-3 at two last year, including a daylight win in the GI Los Alamitos Futurity (formerly the Cashcall Futurity), came back to air by nearly seven lengths in the GII San Felipe in a Beyer 105, but was injured and retired before he could get any further. He is yet another shrewd acquisition by Claiborne standing for $25,000, since there are plenty of people who believe he is still the best 3-year-old colt to have raced in America in 2017.